Miami Nightlife
Please follow and like us:
Miami can be the place to party and to forget the existence of all your troubles in mind. However, you must be informed of what to do or where to go in the city to be able to enjoy it to the fullest.
Miami has four surrounding cities where the best nightlife and bar scene has been established.
The most popular are in Miami Beach and South Beach (SOBE). In these cities, you will find the mega clubs and prestige lounges that will highlight the hottest DJ's and performers. The most in abundance are in South Beach though, that is where the majority of vacationers and mass audience will go to party. There are its advantages and disadvantages to party in these locations.
The advantage of partying in the beach area is that everything is relatively close by. You can have dinner or drinks in one place and hop to the next in just a couple of minutes. Lincoln Rd is a superb location for having dinner and to browse through stores before your night out. Some upscale hotels like the One Hotel, SLS Hotel, and the Fontainebleau Hotel among others have restaurants and lounges that you can network and mingle prior to going out. You can also walk the strip of Ocean Drive and check out the Clevelander and Mango's Tropical Cafe. They're plenty of lounges and restaurants to pre-party in the area depending on the type of vibe and atmosphere you are into.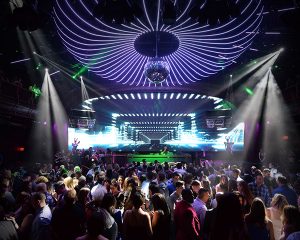 The disadvantages to party in South Beach are the following: For mega clubs like LIV and STORY which highlights the heavy hitter DJ's  including Kaskade and  R3HAB to celebrities performers such as Justin Bieber the admission to get in is expensive and to gain entry is a real mission! If you do not know anyone working for the club, it will be hard to by pass the line and have the doorman let you in. You will be stuck outside the club waiting for your turn if you are not connected with the right people. For groups of good-looking females is not really much of an issue to get access to the nightclubs. But you should have connect that can provide an Express Hosted entry because the a sea of attractive women trying to get into the club as well.
However, for groups of only men, you will have a hard time to get in general admission as the doorman is rigid about letting in only dudes into the nightclub. Groups of guys will have to book VIP table reservations and purchase bottles to be able to experience the nightlife in SOBE. So this means that if you about to go and rock your night in the beach area find your-self a known promoter or VIP host that will help you gain access to the nightclub.
Second, the prices for the drinks and to purchase bottles at the SOBE clubs are pretty pricey. Prices ranges from $12-$25 per drink and bottles start at $375 per bottle. These prices do not include taxes or gratuity, which will be applied to your bill anyways. Now if you do not mind spending hundreds or thousands or dollars to be rock star of the night, by all means you are in the right place to party. However, my recommendation prior to going to the nightclub is to find a cool spot where you can pre-party, have happy hour, or buy bottle specials.
Lastly, traffic and parking in South Beach can be annoying. If you are not paying for valet, the beach area to drive to is too chaotic. You should consider catching Uber, Lyft, taxis, the Freebee or hire private transportation because the meter maids in the area are out for the hunt. Seriously!! In addition to giving you parking tickets if you don't pay for parking, if you leave your car wrongly parked or in residential zones after a certain hours, the next place you will be in line will be at the towing yard. Then your night will be really fun! NOT!
Brickell and Downtown Miami are the next popular cities to party. You will find mega clubs and upscale lounges scattered throughout the areas. In Downtown Miami, the largest venues in the area are HEART and E11ven nightclub. These mega clubs caters to EDM music and will offer the biggest DJ's act from around the world. Some of these international artist such as Chus & Ceballos, Erick Morillo, and Boris rock the party at HEART pass the sun goes up. There are profusion of lounges and restaurants in the area of Brickell. You can go to Mary Brickell Village to have dinner, drinks and to party and now that the new Brickell City Centre is open there will be lots more of places to choose from. Parking is not really an issue as there are several parking lots in almost every corner.
Midtown and Wynwood can be considered a local destination to party. In these areas, there are several restaurants that offer dinner, music and live acts. Is more common for the Miami local to frequent these venues, as the drink and food prices are more moderate than the other surrounding areas. Wynwood is rapidly growing in popularity.
##
By: Jester Nino
Picture Credits:
Matthew Paulson / Posh Panel / Ocean Drive Magazine / Estate Fox
Please follow and like us: